Would competition in a game help create engagement and conversation, or stifle the conversation in favor of "one-ups man ship"?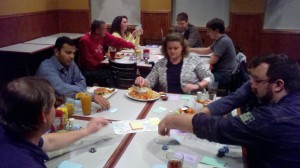 That was one of the questions that came up when I led a session of Agile Failure Pattern Poker last month at the Agile Iowa meeting.
I've played this game in a few settings now, first at AgileCville, then at Agile Coach Camp on Games Day, and now at Agile Iowa.  Each time I've learned something and I think that the mechanics of the game itself are getting better.
One clear lesson from each of those sessions is that people enjoy seeing common "failure patterns" and being able to relate to them and tell stories about how "I've been there before!"  Participants have also enjoyed the game aspect of having a set number of "remedy" cards in hand to play as possible solutions to the failure pattern being discussed.
I slightly revised the rules of the game this time, and made a crude game board in order to facilitate play.  Rather than explain the rules, I encourage you to just check out the game board image below, since I tried to make the rules self explanatory there.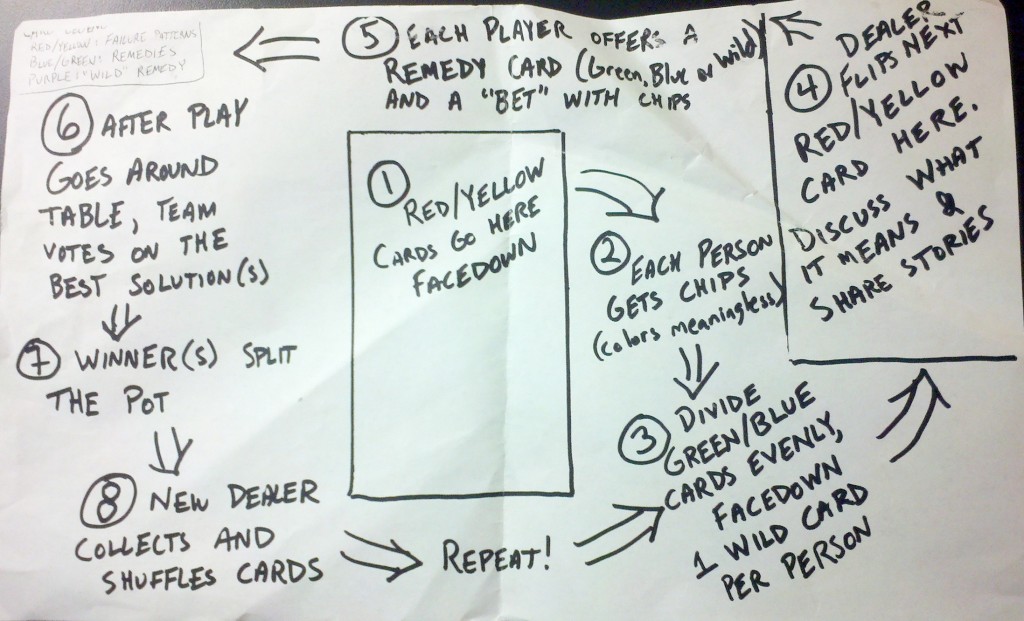 The big difference this time was that we used poker chips more formally than I have before and made the game more like poker.  Each player had to place their "remedy" face down, and put a set number of chips out with it as their bet that their solution  would be the best.
After everyone placed a card down, and matched bets if necessary, then all the players flip their cards over.  After a discussion of the remedies, the team votes on who had the best remedy, and they get all the poker chips.  The person with the most chips at the end of the game wins, and in this case, I brought Starbucks gifts cards for prizes.
It's important that everyone stays involved, even if they have lost all their chips, and so we set the rule that even if you have no chips left and therefore cannot play "remedy" cards, you still get a vote in who wins that round.
At AgileIowa, we played two tables, with 4 or 5 people at each table.  One round of the game lasted about 30 minutes or so.  We played a second round in the meeting, and removed betting with chips the second time.  However, the team still voted on the person who had the best remedy.
I still haven't quite figured out the best way to incorporate wild cards into the game.  I think wild cards are important, so you can suggest remedies that are not in the deck.  The point is after all learning, so we don't want to restrain that.  However, a player could choose to play wild cards every time if they don't like their hand and that diminishes the game aspect.
So I think next time we will limit the number of times you can play a wild card, or as one person at AgileIowa suggested, require that you "buy" a wild card with poker chips.
In general though, it went very well and everybody seemed to have a good time.  There was certainly a lot of great conversation generated, so that's the most important criteria for success.
I'm considering now making a more official game board and cards for those who want to use this as a learning game, a training game, or a retrospective game.  What's your vote – would you want to buy a physical game or play an online version?  Or is it better to just make your own on index cards?