Last week had me beaming with pride when I got the news that former AgilityFeat client nPulse Technologies has been acquired by FireEye for $60 million.
TechCrunch described what both companies do this way:
FireEye helps companies detect intrusions on a company network, while nPulse builds on this by providing a way to track the intrusion and understand what happened while the intruder was traipsing around inside the network.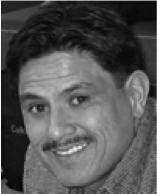 This morning I got to have coffee with my friend and nPulse CTO/Founder Randy Caldejon. Randy looked a bit tired but happy, and it was great to catch up with him a little bit and share how far we have both come in the last few years.
In early 2012, my software development business at AgilityFeat was just getting started, and nPulse Technologies was one of our first development clients. Previously AgilityFeat was exclusively an agile consulting and training business.
My co-founder David Alfaro came up from Costa Rica, and stayed at my house in Charlottesville Virginia while we worked with Randy and his team. At the time, there were six or seven people on the nPulse team, but it was clear they had a group of brilliant folks and nPulse was on it's way to great things.
Our team at AgilityFeat helped design an early data dashboard to help administer the application. Our UX lead Mariana Lopez worked with Randy and Chris from nPulse on the dashboard interactions, and our visual designer Daniel Phillips gave it the styling and design.
David led a small team of 3 developers on our end who worked with Chris Fauerbach from nPulse to build the dashboard that Mariana and Daniel had designed. It was a fun and technically challenging project, using Python and a lot of fancy (and sometimes frustrating) javascript to pull it all together in real-time.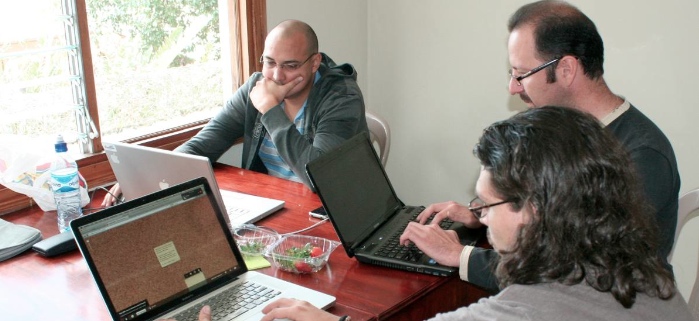 Saul, David, and Rolando doing development work for nPulse
My first interactions with nPulse Technologies were before our development began, as an agile coach to their team. Dave Haeffner and I did some training for them on test driven development with Cucumber and Selenium. I also led sessions on agile methodologies like Scrum and Kanban, and helped the nPulse team apply these methods to wrangle the chaos of a startup's early days.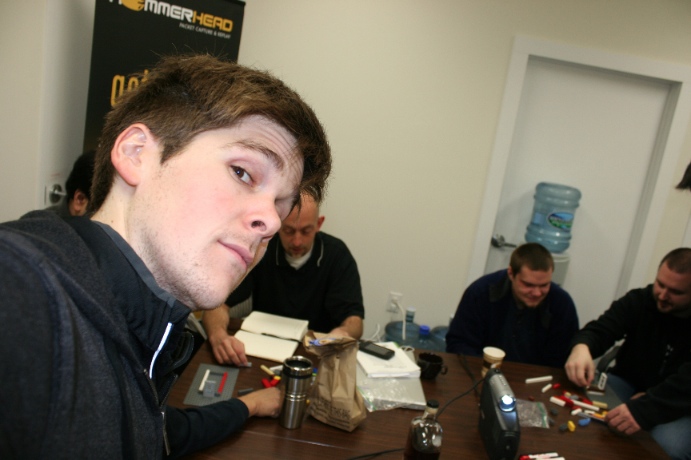 Dave Haeffner mugging for the camera during a TDD training session at nPulse. On the right in the back is Chris Fauerbach of nPulse who we worked most closely with.
In late 2013, I had a chance to go back to nPulse and do a little follow up training. The nPulse team had grown to 30, and nPulse had clearly come a long ways. With growth comes additional challenges for an agile team, and so we worked through ideas to help them keep delivering customer value frequently.
All of their hard work has clearly paid off, since last week FireEye acquired them in a cash and stock deal worth over $60 million. For us at AgilityFeat, we couldn't be more proud to see a client do so well.
It reminds me of an experience I had during the late 1990's. My brother Jon was one of the founders of Thinkgeek.com – amazingly I hear they still use a lot of his Perl code. I saw how hard Jon worked and the personal sacrifices he made (he is 2nd from the left in the photo below of the co-founders). It was no surprise to me when I saw Thinkgeek make it big time, and seeing that hard work behind the scenes only made me more proud of what my brother and his co-founders accomplished.
Today at the coffee shop was not the first time I've seen Randy or the team at nPulse look tired. It's also not the first time I've seen them look proud of what they've accomplished. They should be both tired and proud, like all entrepreneurs who reach their stage of success.
We all have our entrepreneurial dreams. For me and my family, we are accomplishing one of ours when we move to Costa Rica this July, and begin splitting our time between our clients in the US and our team in Central America. The experiences my wife, my sons and I will have getting more immersed in Latin American culture and improving our Spanish are going to be priceless. The perspective it brings me will help us take AgilityFeat to the next level. Being able to do this is what I dreamed of when I started AgilityFeat, and we're making it happen.
David, Mariana, Daniel and I all have a lot to be proud of at AgilityFeat. Over the last couple of years since we first worked with nPulse, AgilityFeat has grown to over 20 extremely talented developers and designers around Central America. Our client base has grown too, and we've learned a ton about real-time development in python, ruby on rails, and node.js.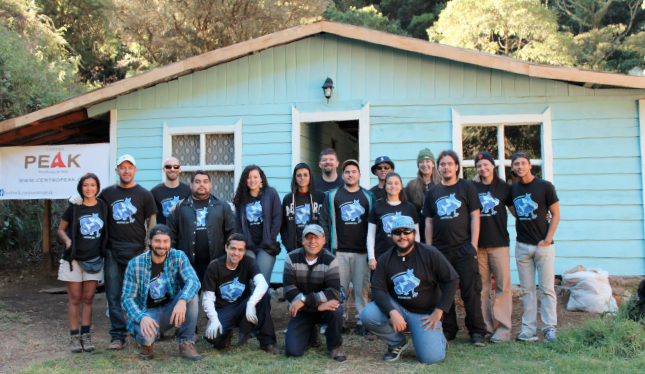 The AgilityFeat team at a retreat in the Costa Rican cloud forest in January 2014 – we've added a few team members since then!
For us, nPulse was a key place where it all started. And so we couldn't be more proud of all our friends there. To Randy, Tim, Chris, Dennis, Bill and all of the gang there – we're proud of you, we'll be following your progress at FireEye closely, and don't forget to come visit us in Costa Rica sometime!