There were some things that Paul Singh said last week that I can blog about. There were also a lot of jokes he made and insider advice that he gave which was quickly qualified with a "Don't tweet this please or I will kill you."
"<tweet redacted>" @paulsingh at @TechCocktail

— Arin Sime (@ArinSime) August 1, 2013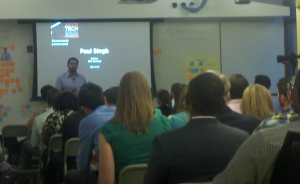 Fearing death, I complied with Paul's request. But there were still some thought provoking comments he made that I can share with you. Paul Singh is well known in the startup world as a partner at 500 Startups (along with Dave McClure), a venture capitalist, and most recently as founder of dashboard.io. Paul spoke at a DC Tech Cocktail event in Arlington Virginia on Wednesday July 31st.
Here are the two big takeaways I had from his talk:
#1 Your brand is not what you project, but what the market perceives
Paul is a venture capitalist, and so understanding how the market perceives your business is very important to him. No matter how great your investor slide deck is, if your early customers are saying bad things about your product or service, then VC's will be wise not to invest in you.
A good VC will know how the market perceives you even before you make your presentation.
Projecting the brand you want through your website and social media is of course important, but it's also important to know everything that is being said about you (and your competitors). The simplest way for you to get that information is setup a Google Alert on yourself and your competitors.
#2 Notability matters more than credibility
This one generated some controversy and conversation in the room. Your personal brand as a founder is directly related to your business, the success of that business, and to your ability to raise capital.
The concern some audience members were raising I believe was related to a fear that he was saying credibility doesn't matter, and you can BS your way to notability in your field. Paul made it clear though that's not what he meant.
Yes, you first have to be credible. You must have the credibility to start the business and speak intelligently about your market and your product. But credibility is only the beginning.
Paul emphasized the value of doing public speaking in your industry vertical, and making yourself "notable". There are lots of credible people like you out there, so you need to make yourself notable in order to differentiate. Or as Paul put it "Credibility is table steaks, notability is how you win."
Growing the perception of your brand through notability
The combination of these two comments by Paul struck a chord with me. As an entrepreneur, I probably spend too much time worrying about the content on my website, when instead I should spend more time increasing my notability in the field so that I can shape my brand without relying on organic internet searches to drive customers to my products and services.
How can you build on your credibility, and start to focus on notability in your field? Call it content marketing, growth hacking, or just plain smart business. But it's time for us both to get better at it.