UX Magazine had an article last month by Michael Lai entitled "UX and Agile: Tying the knot", which used a great marriage analogy to discuss how UX and agile are and must be intertwined. At AgilityFeat we are very passionate about both UX and agile methods, so this article certainly speaks to me.
Michael emphasizes that UX has to be embraced by the whole organization, and I couldn't agree more. Our most successful projects have been those where our UX leads were highly integrated into the project, and where UX was a key part of why the customer chose AgilityFeat over other development and design shops. When our UX and design team has the flexibility to work with our customers on their vision, that is when we really flourish.
Our agile development process complements this creativity very well. Here's how we combine them for maximum punch:
1) Assessments up front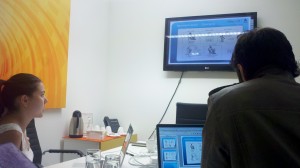 We like to start off our projects with customers by assessing where they are at now (especially crucial if they already have a product), and helping them envision where they want to go with their product. We do this by learning about their business and processes, their customers, their current software, and what internal and external stakeholders to the product value. At the end of the assessment we produce a presentation that shows our recommended process flows, a prioritized development backlog, brand guide, and high level design.
2) Sprint Zero to get ahead of development
Once the assessment is complete and we have agreement with the customer on the high level vision and design, it's time to start development. Well, almost time. We start our projects with a Sprint 0 where two things are happening. First, the development team is setting up the coding infrastructure that they need and building a "walking skeleton" that shows how key frameworks or interfaces in the application are going to work. In parallel to that the UX and Design leads are building the first wireframes and mockups on the highest priority development items. This Sprint 0 usually lasts two weeks.
3) Iterative UX and Design to match development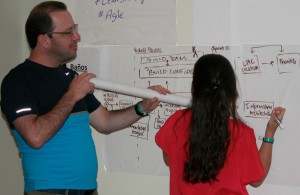 Once we are into development, our teams work in short one week sprints with frequent demos to the customer. The UX and design leads are working on the same cadence, and always make sure that the mockups and designs for next week's sprint are ready prior to the sprint planning. This allows for very efficient UX and design because we are not designing things until right before development is ready for them. That leaves plenty of time for the customers to adjust features, while still staying true to the overall vision developed during the assessment.
This pattern of agile development, UX, and design has worked very well for us. Does this match how your teams work? Do you have questions about how you can get your teams to this state? Setup a free chat with me using soHelpful.me/arinsime and I'll be happy to share notes with you!