My background is technical, not in sales. But as a lean entrepreneur, I have to wear my sales and marketing hat more than I wear my programmer hat these days. So I was excited when I could make it to this month's DC Lean Startup Circle.
The topic was Lean Sales and Marketing, and as usual, organizer Rebecca Thurman put together a great program. A packed room heard 6 short presentations from DC area entrepreneurs about what they have learned doing sales and marketing for lean startups. The format was excellent, since the short time windows required each speaker to focus on their most valuable advice to us, and there was a lot of it.
Here are the takeaways I had from each speaker, I hope you find them useful too!
recent winners of Angel Hack DC
1) When selling to businesses in your area (especially the restaurants they are selling to), don't call – just show up! You'll get much better responses. But make sure you show up during the restaurant's downtime – typically 2-4pm for most restaurants.
2) Sell people on the problem first, not your solution. Use phrases like "Does this problem resonate with you?" If it does, then show them your solution using simple mockups like those you can make with Balsamiq.
3) Sell the solution before you build it.
Zvi also started the DC Tech meetups
1) Don't try to sell to everyone, find a niche and focus on it
2) Every decision you make should be about building a profitable business, not building a cool product. Don't ask people "would you use this?", ask them "would you pay for this?"
3) Let people qualify themselves on your website and use metrics to find the top 10% of your site visitors. Those are the ones you call up and ask to upgrade to a paid account.
4) Contactually uses MixPanel to track usage and Intercom to see how active users are on your site. Google Analytics is only to monitor sources of traffic to the site.
5) Don't track every metric, only the ones that truly matter to your business (think of conversion rates to paid accounts for example).
1) Pay people to sign up for your site, and use them as beta testers. He has had great success using SponsoredTweets.com to find people who are willing to tweet about and use your site for as little as 20 cents per person. Sign up and sort by users in your budget.
2) Engage people outside of your site to find out what they like and don't like about your product.


1) Get people paying for your product as soon as possible. Don't delay this.
2) Focus on getting the right sort of publicity, with notable sites and newspapers. They got a lot of credibility from a write up in the Washington Post for example.
3) They sell to HR executives, and so they used LinkedIn to qualify their email leads and make sure the job title justified a personal call to sell the product.
4) During Jamey's talk, an audience member also suggested getting a 5-10 minute "pre-call" with prospects before you give them the online demo of the tool. If you understand their needs in this pre-call, then you can sell better in the real demo.
5) Invest in a well designed website.
recent winner of Distilled Intelligence
1) Keep yourself grounded and remember that you are not going to go viral and people will not beat a path to your door. You must "Always be closing".
2) Your pitch is your first product, so tell it to everyone you can and practice it a lot.
3) If you are not getting a spark in the eye of your prospect as you pitch them, then that means you need to refine your pitch more. It took them about 6 months to really nail their pitch down.
4) When networking, focus on how you can help the person you are talking to so that they will do the same for you. This builds relationships, which is what truly valuable networking is about.
5) "Don't fish with candy." Just because you like candy, does mean you can fish with it. Fish like worms. Understand your customer.
1) He's had more success selling B2B products to skeptics then nice people. The skeptics tend to be people who have more sway and so they are asking you tough questions. The nice people often just want to be your friend, but will never actually close deals.
2) Great sales people learn how to follow up with prospects regularly without becoming a nuisance. Don't be afraid to follow up, perhaps with articles relevant to them or something that shows your thought leadership.
3) Don't be afraid to ask a prospect who is not returning your calls to tell you why they are not responsive. You might learn something.
Another great evening of learning at DC Lean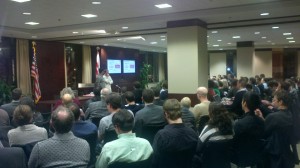 The DC Lean Startup Circle is a great group of exciting entrepreneurs, who are willing to share their knowledge. This meeting was no exception, and I am excited to start applying more of these techniques to my own sales and marketing.
If you are an existing prospect of mine, then be ready for a call from me soon – I am about to get better at following up with people!