Want to get a sneak peak at what to expect at the DareToBeLean conference? Well, here's your chance! On November 15th at 12:30 EST, AgilityFeat will present a "fireside chat", interwebs-style with Patrick Vlaskovits. You already know Patrick from his book, The Entrepreneur's Guide to Customer Development. He's written a new book called The Lean Entrepreneur that's due out in January. Check it out-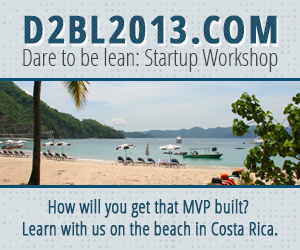 Joining Patrick will be AgilityFeat's own Arin Sime who will explain how the company's code commandos are helping startups create value, one agile feat at a time. He will also be sharing more details about the January 9-11th DareToBeLean conference, held in stunning Tamarindo, Costa Rica.
We hope you'll join us for this free webinar, smores not included.
Sign up here.