Help us choose the resort for DareToBeLean!
I could use your help choosing the location for the Dare To Be Lean workshop this coming January 2013!
In case you don't already know what Dare To Be Lean is, here's the quick rundown. AgilityFeat is hosting a 3 day workshop on the beach in Costa Rica for startups interested in agile and lean startup methodologies. We will have part of our design and development team on hand, and you will be able to learn and apply these methodologies hands on with our team while working on a real world project. If you're not already on our email list about the event, or you are interested in more information, please visit D2BL2013.com.
The dates are tentatively set at Wednesday January 9th through Friday January 11th, 2013. On Saturday January 12th we will organize some tourist trips for those interested in sticking around.
The last thing that is holding us up from opening up registration is picking the resort to hold Dare To Be Lean at. Because the attendees will be from small companies and startups primarily, we know your budgets are limited. But we also know that you want to have some fun while you are here and see the "pura vida" of Costa Rica! So we are trying to strike a balance those two items.
Example resorts
Here are some example resorts we are looking at, on both the Pacific and Carribean Coasts. At the bottom of this post is a survey link, please answer that short survey if you are considering attending the workshop so that we have your input on which way to go.
Resort #1: Westin Playa Conchal (Pacific Coast)
http://www.westinplayaconchal.com/
Deluxe Junior Suite: $374.00/night single occupancy
Royal Beach Room: $449.00/night single occupancy
Rates are all inclusive: 3 meals a day are included and drinks.
Look at this 5-star resort's website for just a few minutes and you'll agree that it's gorgeous. There's no doubt you'll enjoy your time here. But the rooms are a bit pricey: around $400 per night for a single person (it goes down some if you're sharing a room). That is all-inclusive, so your meals and drinks are included, but still it's on the high end of what we are looking at. The Westin is located on the northern end of the Nicoya Peninsula on the Pacific Coast.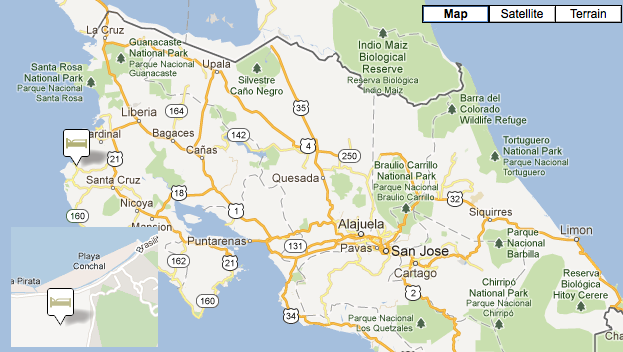 Resort #2: Sol Papagayo (Pacific Coast)
http://www.solpapagayo.com/
$200/night single occupancy, all-inclusive
This resort is less expensive than the Westin and a little lower quality. It's rated 3 stars, and is still all-inclusive for your meals and drinks. And it's still quite nice in our opinion. But the rooms are less fancy and there are fewer choices for where to eat on the resort. The resort has access to Panama beach in the Gulf of Papagayo, just a little north of the Westin resort listed above.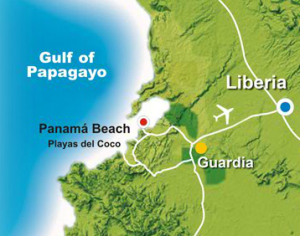 Resort #3:  Almonds and Corals (Caribbean Coast)
http://www.almondsandcorals.com/
$170/night single occupancy, meals included
This unique and beautiful resort will give you a jungle and beach experience in one.  The rooms are actually palm-roofed suites set up in the trees, connected by torch lit walkways. The resort is located adjacent to the Gandoca Manzanillo Wildlife Refuge, a gorgeous location just north of Panama.  The beach is a short walk from the resort through the trees.  This is the most unique and remote location that we have looked at, and also the longest drive from the airport.  We would try to arrange group transportation to the resort.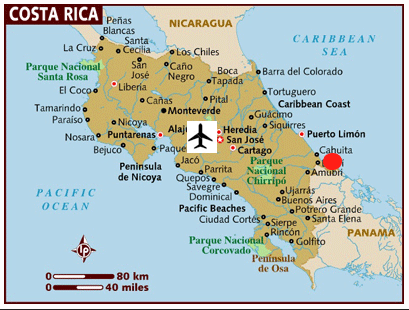 Resort #4: The Laguna Lodge in Tortuguero (Caribbean Coast)
http://www.lagunatortuguero.com
$150/night single occupancy, meals included
This is another great eco-tourism resort, located on the more northern Caribbean coast of Costa Rica.  The resort will pick us up in the capital of San Jose, and then take you to a boat for the final ride to the narrow strip of land where the resort is located.  The resort has very cool architecture inspired by Antoni Gaudi, the famous Spanish architect.  The rooms are enclosed entirely and so a little nicer perhaps than the ones at the Almonds and Corals resort, but still have an adventurous feel to them.
What do you think?
Please fill out this survey and tell us which option interests you the most.  I want to stress that these may not be the actual resorts that we end up at, we are still confirming lots of details about the facilities.  However, your vote will give us some insight to your preferences and what you are able to pay for.
Thank you!
Thanks very much for your time to read this and dream about whatever awesome place DareToBeLean will be held. We'll see you in Costa Rica!