This post is part of my ongoing "BizDev Travels" series.
Cambridge, Massachusetts – July 26 2012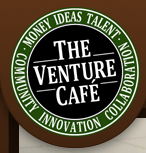 After my previous visit to Babson College's Demo Day, I headed over to 1 Broadway in Cambridge to check out the regular Thursday gathering called Venture Cafe.
This is an incubator/accelerator space in the heart of Kendall Square in Cambridge. It's definitely the best space I've been in before, and I was impressed. Maybe that's because there was free beer, but I think it goes beyond that. They have several floors of the building and it seems to me many of the best startups in the area are living there. Lots of meeting spaces, common work areas, and creative spaces for you to really get your venture going and feed off the energy of others. I love it!
You can't just drop in anytime however, since they understandably don't want people disrupting the tenants with sales pitches all the time. But every Thursday afternoon is the Venture Cafe which you can attend a few times for free for casual networking.
I was told that this was a small group by their normal standards, but there were still plenty of great people to talk to. Everyone wore name tags with a number next to their name, indicating how many visits they have made to the cafe. Mine tagged me as a newbie, with only 1, but that just made people friendlier and more welcoming to me. The entrepreneur tending bar had 88 next to his name. That's a lot of beers!
It was a great event, and one I do hope to make it to again in the future.