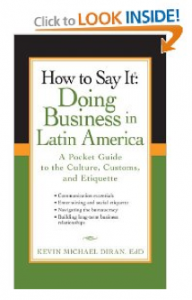 I've blogged before about what a great place Costa Rica is to do business if you are considering nearshoring to Latin America, and so I want to reiterate that from another source.
Here are a few paragraphs excerpted from "Doing Business in Latin America", talking about how Costa Rica is the exception to many Latin America norms (in a good way):
Costa Rica in many respects is a major exception to the rules and practices that govern Latin American culture and which so vex American businesspeople.  It is one of the most stable countries in Latin America. The people have elected to forgo an army, which is an institution that has been the source of problems for so many other Latin Americans.  Costa Ricans, who call themselves Ticos, have one of the highest living standards in our hemisphere.  There is a well-developed social welfare system, and social unrest is unheard of, as are guerrillas, urban or otherwise.

…

There is a large community of English speaking expatriates living in Costa Rica who are very popular with Costa Ricans, and English has effectively become a second language.  Costa Rica's is a fiercely democratic culture, with a belief in peach through negotiations. The country is about as far from the Latin American norm as you can get.
The book goes on to talk about the great ecotourism that makes visiting Costa Rica very fun, and the general optimism and friendliness of Costa Ricans (pura vida!).
Those are all great reasons why I chose Costa Rica when I looked at expanding AgilityFeat into Latin America.  It hasn't been easy, but with the right partners in Latin America (ie, AgilityFeat!) we can make nearshoring a painless, very efficient, and downright enjoyable experience!